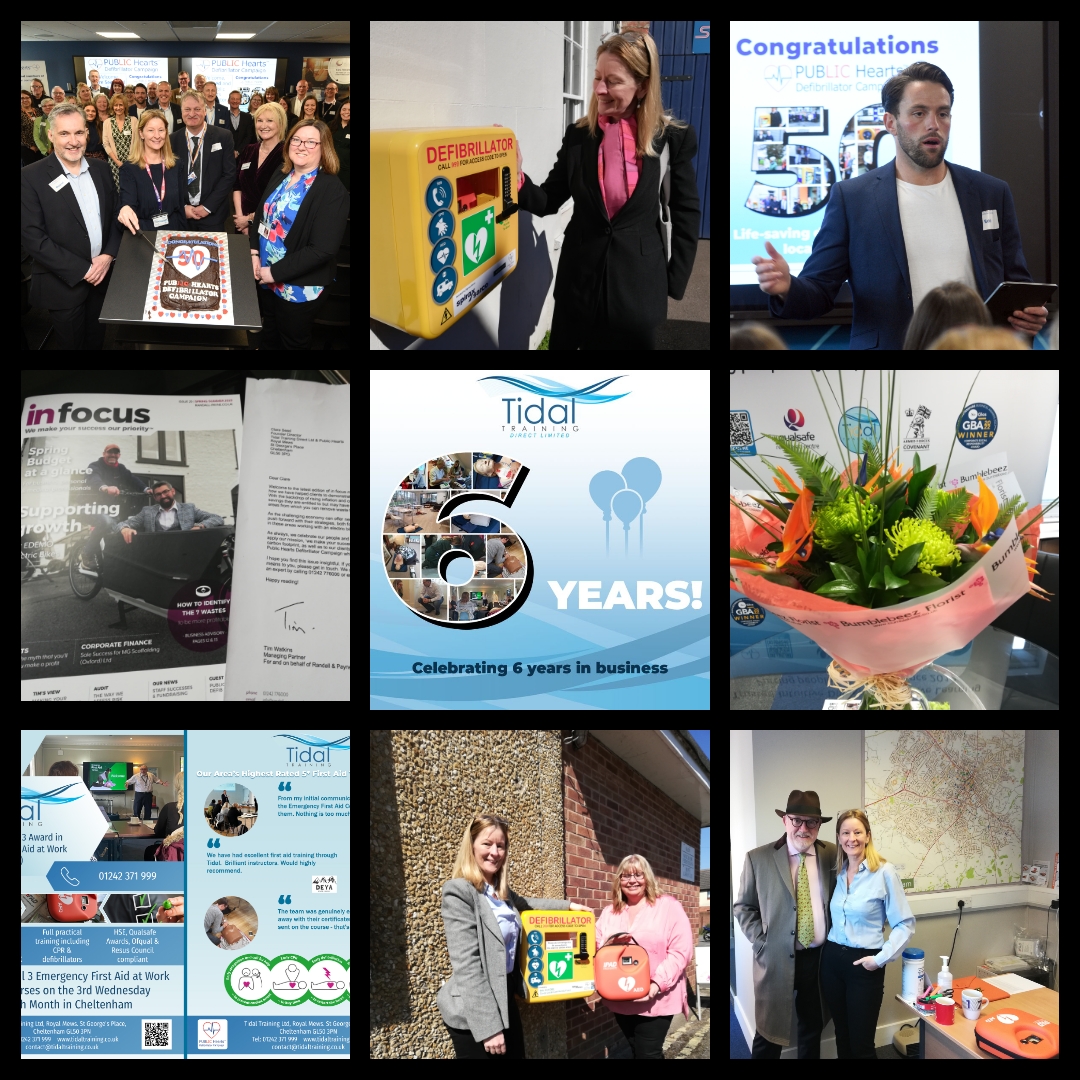 Tidal Direct celebrates its 6th Birthday and a Public Hearts Defib Family gathering
April has passed a lot quicker than March and it's been a month of celebrations and progress for both Tidal Training Direct Ltd and Public Hearts Defibrillator Campaign.
Tidal Training Direct celebrated its six birthday on 11 April, and continues to deliver high quality engaging and practical first aid training here in Cheltenham and up and down the country.
We are delighted to deliver our regulated courses through Awarding Body Qualsafe who are fantastic and a great support to us. Tidal have been with Qualsafe for a decade, having taught thousands of learners vital first aid skills and knowledge.
It's also great to support our friends at Cheltenham BID with their Levy Payers training course series which are proving very popular, too.
On the defib front, we've now installed Defib No 54 with six more locations confirmed including another site with Markey Group.
Having celebrated the Big 50 Defibrillator hosted by our key partners Spirax Sarco UK, our sister and founding company, Tidal Training Ltd, Circle2Success Ltd, G4S, Evans Jones, East Glos Club Cheltenham and so many more of our expanding Defib Family. It's amazing to see this campaign go from strength to strength. We have shared some of the Gallery pictures on our social media channels.
Key highlights include Quadrangle Cheltenham with Defib No 53 and backing our campaign with super SoGlos. More locations and public access for these vital medical devices in and around Cheltenham.
From flowers to cake, it's all been going on at Tidal HQ. And thank you to our friends at Randall & Payne LLP for featuring us in their in Focus magazine
Read more here Randall and Payne In Focus Issue 25 Digital