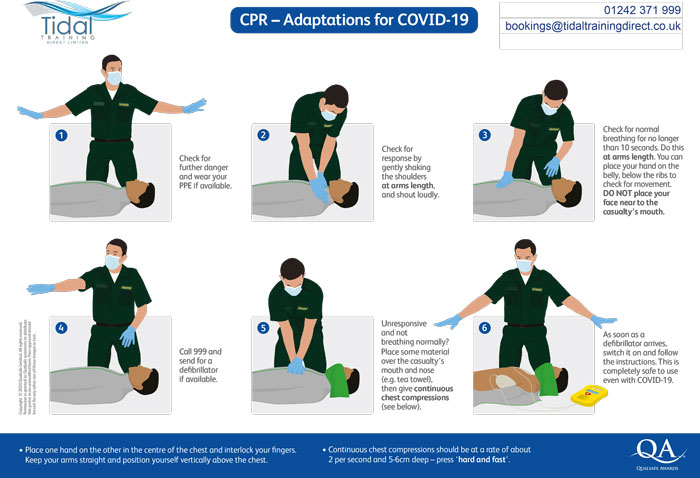 HSE Update – Teaching Rescue Breaths During the Pandemic
During lockdown the Health and Safety Executive, FAQP and our awarding body Qualsafe Awards continue to share essential guidance to support us in teaching safe and socially distanced face to face first aid training.
One of the key practical elements for all Emergency First Aid, First Aid and related courses is learning CPR. During Covid-19, it is vital to support infection control and the subject of Rescue Breaths is much debated.
Reflecting on the Resuscitation Council UK statement on Covid-19 in relation to CPR and Resuscitation in first aid in community settings, whenever CPR is carried out particularly on an unknown individual, there is some risk of cross-infection, associated particularly with giving rescue breaths.
The temporary and optional omission of rescue breaths from training during the current period of high transmission rates is supported by the Resus Council, HSE and our awarding body.
At Tidal, safety always comes first. Having reflected on this current best practice with our clinical team, we are assured that our comprehensive manikin hygiene regime supports infection control requirements. We offer our clients the choice of whether they wish for their staff to learn rescue breaths during first aid training or to omit this element during current times.