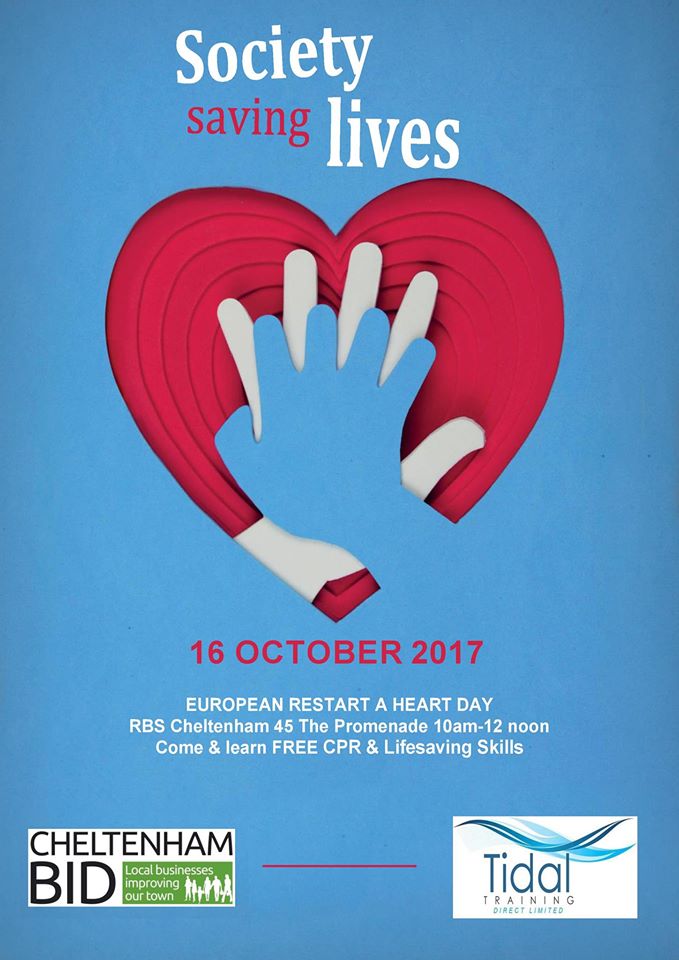 European Restart a Heart Day 16th October 2017
In June 2017, we enjoyed sharing lifesaving skills @ RBS Cheltenham, thanks to the support of The Mayor of Cheltenham and the hospitality of the Branch and Business Manger Jade Smith. When she kindly invited us back, we decided to tie our date in with National (and European) Restart A Heart Day, an initiative run by The Resuscitation Council UK,  supported by British Heart Foundation and is a designated day of action across Europe with the aim to teach vital life saving cardiopulmonary resuscitation (CPR) skills to as many people as possible.
To support this in Cheltenham we're hosting a morning of CPR awareness, demonstrations and discussions to share this with RBS customers, businesses and individuals in Cheltenham. Often referred to as "one of life's essential skills" learning CPR can save some-one's life and it is to the benefit of us all individually, corporately and as a community to know what to do should some-one suffer a suspected heart attack or cardiac arrest. Tidal Training Ltd, Cheltenham BID and notable members of Cheltenham are coming together on the 16th October 2017 for this initiative. Look out for photos and updates in our next blog.
https://www.resus.org.uk/events/rsah/