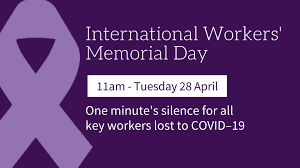 28 April 2020 Commemorating International Workers' Memorial Day #IWMD20
Today is commemorating International Workers' Memorial Day and The Chief Executive of The HSE, Sarah Albon shares an important and compassionate message.
"I believe firmly in our mission – that no-one should get ill, be injured or die because of work. And as I write this, I'm thinking about the key workers who are risking their own health and wellbeing during the coronavirus outbreak. I want to recognise them and their efforts which are so instrumental to the national effort. The extra levels of risk they're now exposed to at work are in some cases unavoidable but let me be clear that all risk must be managed appropriately. I'm proud of how hard HSE is working to make sure employers put sensible and pragmatic approaches in place, and keeping our guidance, based on science and evidence, updated. These efforts are a vital part of keeping essential services going. So to my colleagues, and all those duty holders adapting to the current circumstances, thank you.
As well as all those affected by the coronavirus outbreak, I also want to think about everyone else we've lost."